There is a little shed on a tiny sliver of land jutting into the lake. I am no metallurgist, so excuse me if I take it to be made of tin, or thakaram as it is called in Tamil. That paints a nicer picture for the romantic in me, you see. This shed is unlike any other, or so I tell myself. It is an amphitheatre where such drama unfolds, the likes of which even Bollywood could not have seen. So pardon me for calling dibs on a permanent seat on the floor. The tharai ticket, as we Tamilians like to call it, used to be the cheapest ticket at the local cinema, typically on the floor, right in front of the screen, and affording the spectators (usually children) the simple pleasure of squatting, and the supreme luxury of erupting in a raucous jig at the slightest excuse. Sadly, this disappeared with the advent of multiplexes, aerated drinks, and airconditioning, not necessarily in that order.
Anyway, this little tin shed on the Powai Lake has played host to romances, tragedies, thrillers, mysteries, and everything in between, but with some serious twists. Firstly, the actors are not always human. And secondly, it is all spontaneous and impromptu, kind of like improvisational stand-up comedy – the blink-and-you-shall-miss kind of action that goes against the theatre norms of scripted films, re-runs, show-timings, and advertisements. The kind that one is unlikely to ever find on torrent sites and DC++. Lastly, it is always, always free (as in "free beer").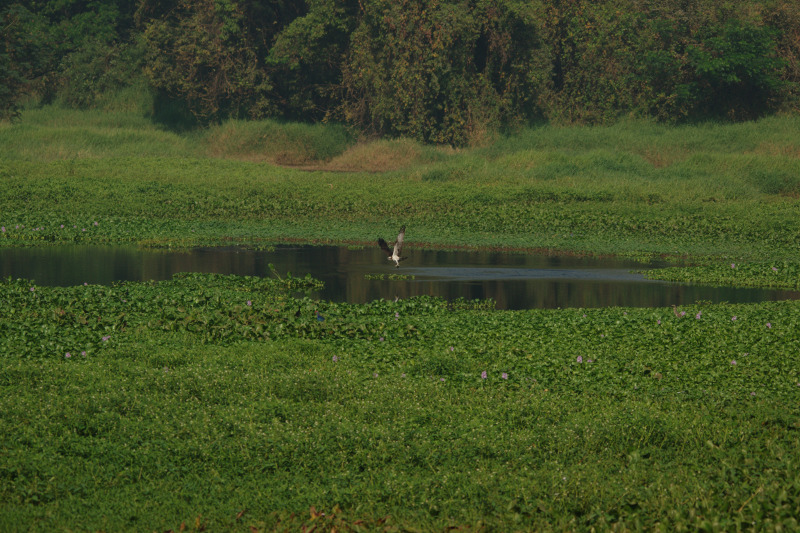 As you may have surmised by now, I am a happy resident of a campus by the lake. And it is not just any old campus, mind you. I live inside the Indian Institute of Technology (IIT) Bombay campus. And, consider myself privileged to stay here - a little haven within the bustling metropolis of Mumbai, a tiny island (metaphorically speaking) that is cut off from the city's concrete jungle, fumes, pollution, famed commutes, and crowds. It is nicely ensconced between the breathtaking (and crocodile infested) Powai lake on one side and a hillock worthy of picnics on the other. What is more, it shares borders with the Sanjay Gandhi National Park (SGNP) – borders and fences that the numerous wonderful residents of the park frequently disregard! There are even notices warning folks to not venture into certain areas that are prone to, say, a stray leopard that wandered in from its home adjoining the campus. During the rains, tracts transform into miniature rainforests, replete with leopards and langurs, pittas and pangolins, macaques and magpie robins. So in this case, the adage 'good fences make good neighbours' can be left to rust unburnished. For here, there is scope for osmosis, for the city's green lungs to breathe, for good neighbours to evolve and learn to co-exist. How much fun is a neighbour who does not visit, share, interact or borrow? How can a neighbour be good if there is no interaction? For good neighbours come into existence not when fences go up, but when walls crack, crumble and fall.