ViXeN : View eXtract and aNnotate media
ViXeN is a simple tool to facilitate easily viewing, adding, and annotating metadata associated with media. ViXeN has been designed primarily to assist field biologists with managing the large amount of media they collect in a minimally intrusive manner. One may think of ViXeN as a special, customizable file browser with which one may view and edit metadata associated with media files like videos, images and audio.
ViXeN was envisaged as a 'no-fuss' means to manage videos from 32 camera traps that were set up in the Banni grasslands in north-west India to survey species occurrence and interaction patterns, with a focus on carnivores. The research project began in 2013 and as of 2015 has resulted in 6000+ videos. When confronted with the daunting task of viewing and managing such volumes of media files, we realized that there was a dearth for tools to aid in the processing of such data. There were data managers for images but nothing suitable for video (and to a certain extent, audio) files.
It was designed and developed by Prabhu Ramachandran and me.
Linux and FOSS
I have been a Linux (and FOSS) user from (the fag end of) my high school days. The Ubuntu revolution started about the same time, and I've been a user (and fan) since Hoary Hedgehog. I became a FOSS evangelist after reading ESR's essay, The Cathedral and the Bazaar, as a teenager. My progression can be traced according to the following image from Stefan van der Walt's entertaining, enjoyable, AND geeky talk at SciPy.in 2010.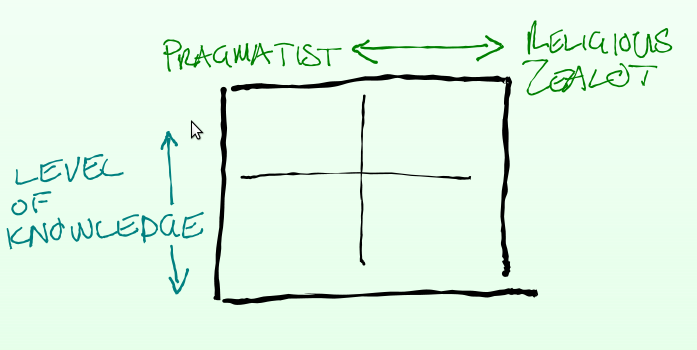 I'm no pragmatic expert, but I'm no longer a n00b zealot either :)
I used to be a sysadmin for LinuxChix-India (LCIN) and a member of many other communities and mailinglists, including Ubuntu-Women, ILUGC, ILUG-BOM, FSF-India, GeekFeminism, and BangPypers.
FOSSEE (Free/Open source Software for Science and Engineering Education)
The FOSSEE project broadly deals with the adoption of FOSS in Science and Engineering education in institutions across India. I was working with highly qualified teammates on cool projects - our unofficial aim was to 'achieve world domination through the Python programming language'. Actually, that was our official aim. Our team meetings would always be high-voltage and uber-geeky. We had a blast of a time doing things we were passionate about and taking up serious issues and problems - we were lucky to have a fun environment to do this. My responsibilities included coordinating and conducting workshops in colleges across India, web administration of the project site, documentation, developing patches for open source projects, technical writing, and content generation.