2022
I was invited to attend the Women's Convening in Asia event organized by National Geographic in October 2022. It was an incredible experience being a part of the Convening in South Korea, meeting some amazing women doing fantastic work in different parts of the world, sampling superb Korean food, and exploring Seoul and surrounding areas.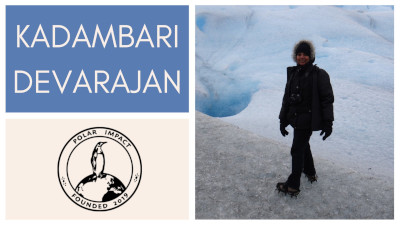 I attended the International Statistical Ecology Conference (ISEC 2022) in gorgeous Cape Town, South Africa over the summer of 2022 thanks to a travel award from URI. It was exciting to return to South Africa after many years and revisit places I'd been to as a child and check out some new wonders.
I was able to attend SciPy 2022 in Austin, TX in July thanks to a travel scholarship from the organizers. The first in-person meeting since SciPy 2019 due to the pandemic was bigger than ever!
2021
I've joined the University of Rhode Island as a postdoctoral research fellow leading the collaborative Global Animal Diel Activity Project with Brian Gerber (an assistant professor at the University of Rhode Island), Mason Fidino (a quantitative ecologist at the Lincoln Park Zoo), and Zach Farris (an assistant professor at Appalachian State University).
Successfully defended my PhD! PhDone!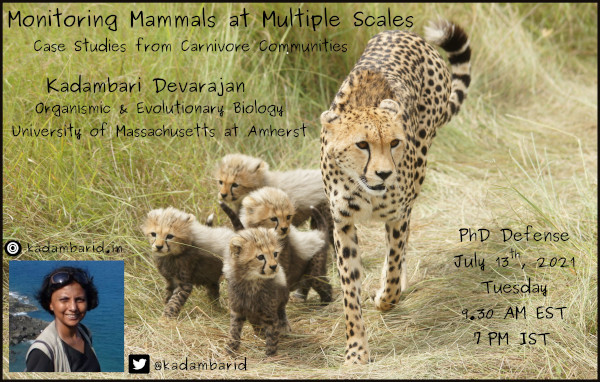 PhD defense on the calendar!

2020

Kadambari Devarajan, Toni Lyn Morelli, & Simone Tenan (2020), "Multi-species Occupancy Models - Review, Roadmap, and Recommendations", Ecography. (News: The Wildlife Society, USGS; Press Release: UMass News Office; Science News Aggregators: Science Daily, EurekAlert, Bioengineer.org, Phys.org)
2019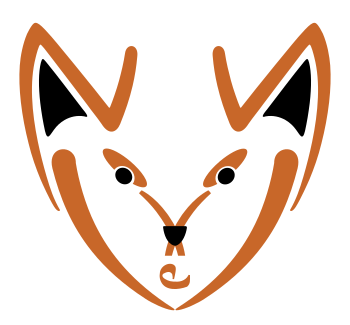 2018
2017
The paper on ViXeN (software for managing multimedia data) has been published in Methods in Ecology and Evolution. (Blog post in the MEE blog)

Field stories and folktales from Kutch titled A Salt County Almanac was published in the September 2017 edition of Saevus magazine.

My essay, Stories in the Sand (Pg 6 of the souvenir booklet), featuring field stories from Kutch, was one of the winners of UNESCO C2C's Nature Writers Competition 2017. The prize included an opportunity to be a part, all expenses paid, of the two-venue event "Celebrating Natural Heritage: In Literature, Arts, and Culture" held at the Wildlife Institute of India in Dehradun and the spectacularly beautiful Great Himalayan National Park.
Pre-2016