Art
"Fall in Amherst"
Medium : Watercolor on paper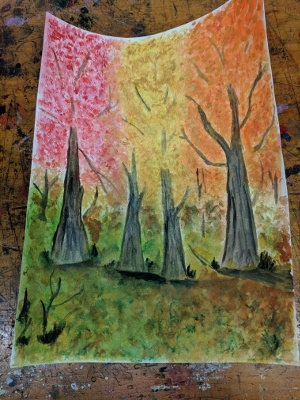 "Bridge over water lily pond"
Medium : Acrylic on canvas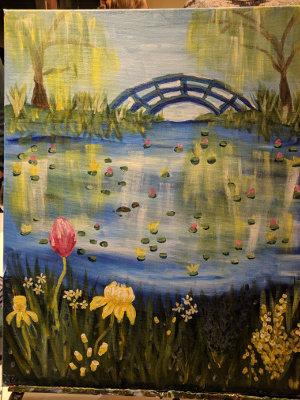 "Starry night"
Medium : Brush pen on paper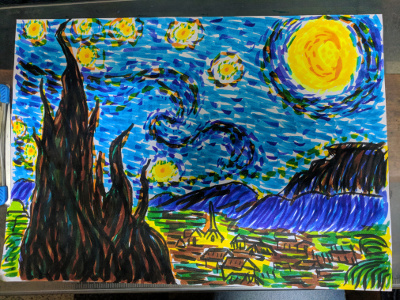 Pre-2017
When I got diagnosed with cancer in November 2013, a wonderful friend thoughtfully gifted me some art supplies and helped me get started on many of the paintings I did subsequently. I started light and did some painting a few days a week, especially on the good days during the treatment. This art therapy did me a world of good - I felt productive and it helped distract me, in addition to cheering me up. However, after a few sessions of chemotherapy, due to severe thrombophlebitis on both arms which was painful and made my arms virtually unusable, the art sessions dwindled and came to a standstill, before picking up again during the radiation therapy. Images 1 to 6 were some of the pieces I worked on during the treatment. Those listed after 6 were from an earlier time, done whenever I felt like painting. I have experimented with a variety of media and a range of techniques, and had tremendous fun in the process.
Medium : Acrylic on Canvas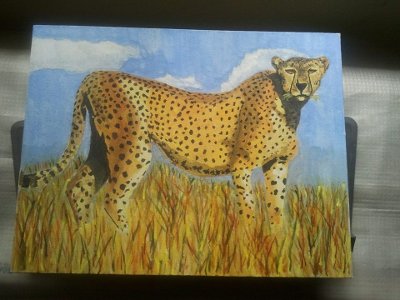 This painting of a cheetah in an African savannah was started during the middle of my chemo but since it was quite challenging a piece and with the addition of treatment-related complications, I managed to complete it only after my radiation. It was inspired by a digitized image on a postcard along with a photograph that I had taken when on safari in the Masai Mara National Reserve in Kenya. Some photographs of big cats from that trip can be found here.
Medium : Acrylic on Tile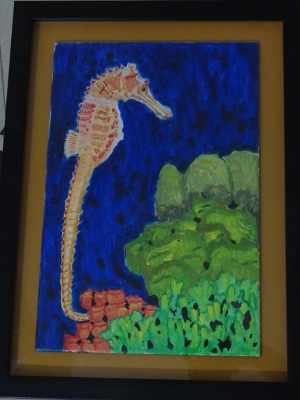 This painting of a hedgehog seahorse was based on one of the Zoo Outreach Organisation (ZOO) postcards I picked up at SCCS Bangalore in 2013. I had never painted on a tile before and the friend who gifted the art supplies suggested checking it out as a medium and helped me get started. It turned out to be much easier than I had imagined and a lot of fun. This was done quite early during the treatment, when my chemo was just starting, and did not take very long to finish.
Medium : Acrylic on Cookie Box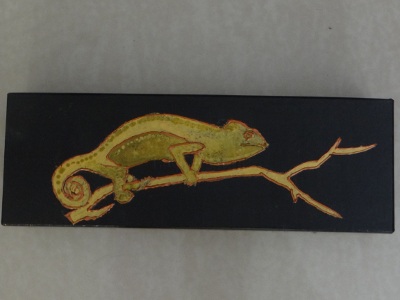 This chameleon almost organically grew on this old cookie box that I had. I painted the box black and then decided to draw a lizard in gold, that sort of morphed into this chameleon. I wanted to keep it simple and work with just black and shades of gold - it was a lot of fun and is one of my favorites. It was one of my first pieces and was done after my first chemo.
Medium : Charcoal on Paper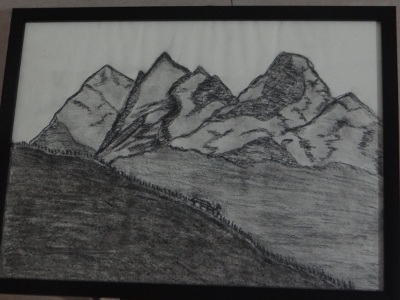 This was a spontaneous charcoal sketch of the Kanchenjunga in the Himalayas, inspired by the view we had on a holiday to Sikkim in India. This was the view of the range from the homestay we were based out of in the village of Hee Bermiok. Technically, this was not during the treatment, but a few weeks later. My aunt and uncle had let me tag along on their annual holiday, in order to celebrate the completion of my treatment and since I wanted an escape from home having spent months there thanks to the treatment. It was a wonderful trip, with scenic beauty and picture postcard views throughout. My very talented cousin taught me how to use charcoal for sketching and I loved the simplicity of the technique.
Medium : Stained Glass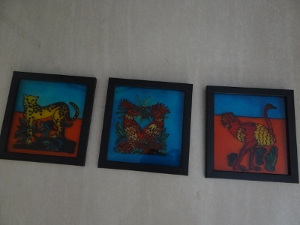 This set of stained glass was inspired by Alexander McCall Smith's "No.1 Ladies Detective Agency" series covers - I look forward to the animal art on the covers almost as much as the books themselves! The first is a leopard, the middle a pair of hoopoes, and the last an ostrich. These were easy to do and did not take very long to complete. They were done around the time of my second chemo.
Medium : Acrylic on Terracotta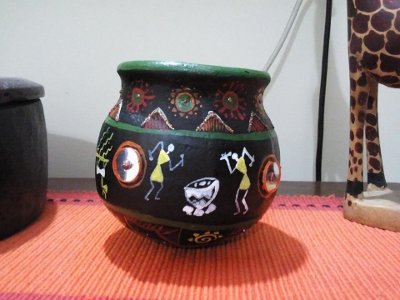 This painting on a terracotta pot was the first piece that was done during the treatment. It was a fun way to get started - with glitter, mirrors, colors, sparkles and what-not. It comprises of just some abstract patterns on the top and the bottom, with some Warli art work of people and animals going around.
Medium : Oil on Canvas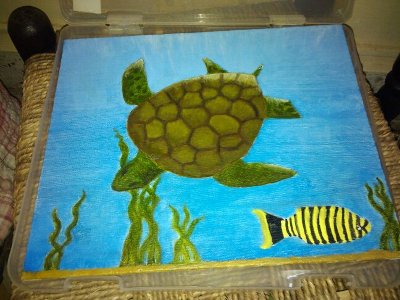 I had just returned to India having abandoned my graduate studies in the USA. I had more time in my hands than ever before and little idea of what to do with it. When I visited my talented young cousin, who agreed to 'mentor' me, I picked up a paint brush again after more than a decade since my first (and till then, last) foray into oil painting!
Medium : Kalamkari on Cotton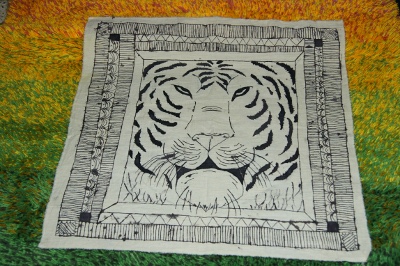 We were back from a fantastic trip to Bandhavgarh National Park (Madhya Pradesh, India) wherein we got a remarkably long-ish appointment with a member of the park's most famous residents. This was inspired by that episode.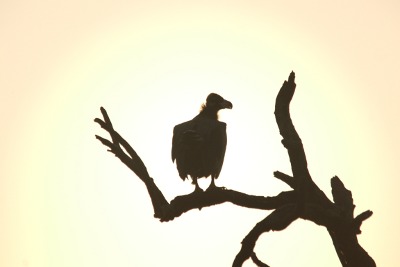 This photo of the Himalayan Griffon vulture was taken in March 2011 at sunset inside Corbett National Park. The silhouetted vulture came to mind when I was contemplating images that I could use for paintings using minimal but contrasting colors.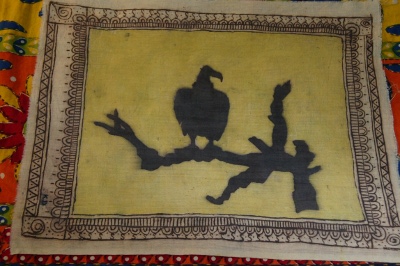 I used the photo given above as a template for this painting. It was simple but satisfying to complete. I had a stiff left thumb for a few days after finishing this (due to which I needed to give my hand sufficient rest before resuming), primarily because of the extensive need for black which in kalamkari involves a concoction with molasses that makes it rather sticky (and stinky!).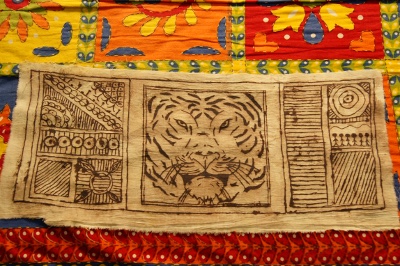 There was a small piece of leftover cloth that someone at the workshop had tossed aside. Rather than let it go waste, I decide to do another tiger portrait with it.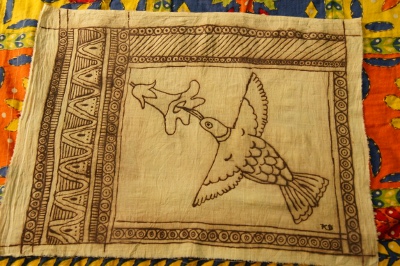 This was one of my first kalamkari pieces. I decided to take some creative liberties and do a rather 'Indianized' rendition of a bird, and this sunbird was the result.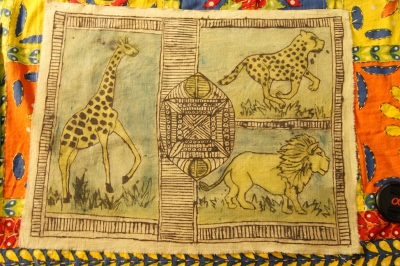 This came about purely because I had a large piece of cloth that I didn't quite want to make smaller. I decided to go with the African leitmotif based on the colors I had available - yellow, black, and blue (combining which I could get a green too). I felt that these colors would translate well into an African savannah scene. It was the one I worked the hardest to get right, but ended up not being quite satisfied with the result. I was happy with how I did achieve the 'African' look despite my lack of experience and reference, and also the way the lion turned out (mane and all).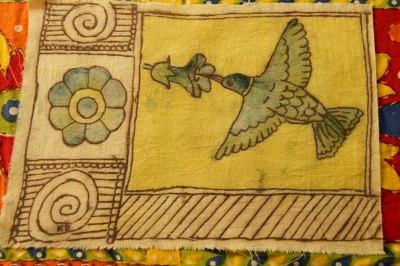 Yet another sunbird motif, inspired with how happy I was with the first one, which is much bigger as well. I decided to leave the first sans color and wanted one where I could play with the color scheme to replicate the iridiscence of the typical sunbird while retaining the 'tribal' look.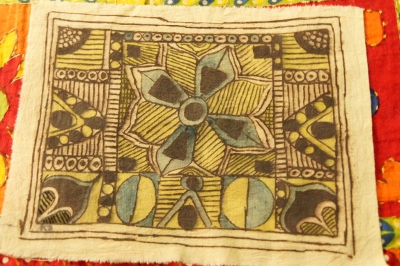 Kalamkari paintings traditionally involve either portraits of gods and goddesses, or abstract patterns. I had consciously stepped away from these and decided to go with flowers and creatures before starting. However, I did want to make at least one each of the traditional forms. This was my abstract pattern, for better or worse.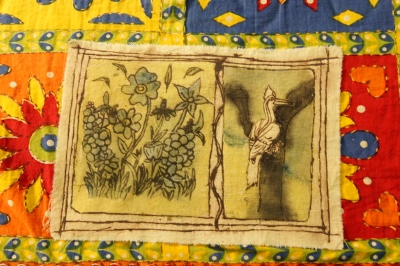 As a change from sunbirds, I decided to draw a basic woodpecker but decided to color the background and leave the bird itself untouched apart from the outline. The floral scheme beside it was inspired by a (then) recent acquisition of mine - a hand-painted salt-shaker that had cute flowers including the blue-bonnets so evocative of springtime in Texas.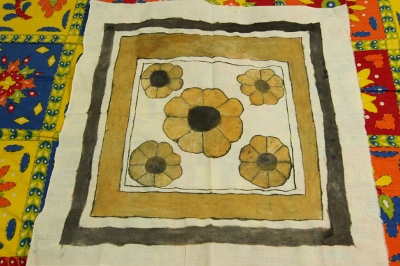 Not knowing what to do with all the leftover cloth of all shapes and sizes, I came up with a plan for making some table linen. I managed to make a table runner with a set of matching table napkins with a geometric floral design in yellow, blue, and black. This was one of the larger napkins.
The Kalamkari painting of a tiger (in image 8 above) was digitized and printed on t-shirts to gift to friends, family, and doctors who were supportive during my treatment. This was PR's project all along - it was his idea to give these as "thank you" gifts along with cards printed with other paintings I did during the treatment. He just flew with it resulting in some lovely t-shirts and we have given them to a lot of people as a note of our appreciation and gratitude.