Bali
Lost in a volcano
All was quiet. A respite from the almost constant music of the wind. Nothing moved. The lake was a dark marble of reflections and surprises. A pause. But not for long. The wind blew gentle ripples on the still and placid waters of the lake. Everything above the surface of the water was a haze of deep purple and saffron, thanks to the setting sun. The skyline was smudged with undulating hills of a dark green, the peaks wrapped in a blanket of white clouds. It was an alien landscape. Silent, beautiful, desolate, and surreal. One could hear the wind conducting multiple distinct orchestras.
The swish of the chilly breeze so characteristic of being in the mountains and the grating noise of our bike cutting through the harsh wind. When you stop, lost in the spectacular beauty of the terrain, you hear the ripple of the small waves being sculpted on the surface of the water. The gentle rustling of the leaves on the occasional tree. There is magic in the air. The lake is the prestige of a master illusionist. The colors play tricks on my eyes, metallic splotches of shades in a tapestry of modern art that change with the light. Rock formations jump out, a fluoroscent green where the rock touches the waters of the lake that then erupts into a pastel riot of colors. A miniature volcano of hues.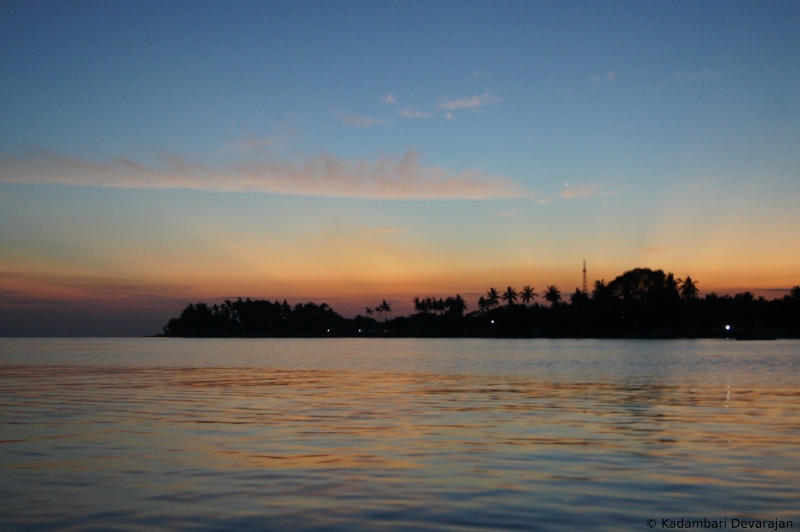 We were in the Danau Batur, a crater lake on the south-eastern side of a caldera of the Gunung Batur, an active volcano in the island of Bali. And, we were lost. Not just in the spectacular scenery. We were truly lost in a strange land, hungry, and completely unprepared to spend the fast descending night outdoors. The sky was progressing to an inky indigo, crisp and clear with no mist, and stars were making an appearance in the night sky. Tired and cold, we stumbled into a tiny village on the shores of the lake. Tiny yellow lamps shone out of small households. We stopped to drink in the sights and sounds, and find our way out in broken Bahasa and lots of gesticulating. "Di mana Gunung Batur? Di mana Kintamani?" (Where is Mount Batur? Where is Kintamani?), we asked a villager who uttered a few undecipherable lines and then just pointed us back in the direction along which we came. Kintamani.
Clearly, a hike all the way to the volcano was not to be. "Terima kasih". We thanked him for his help and started back to Kintamani. We were fine for a few minutes and then lost once more with not a light in sight, apart from the bike's headlamp and the lake illuminated in the moonlight. We reached an intersection where the narrow path forked and decided to stop before becoming irrevocably lost. It was starting to get creepy in the darkness, the magic of the landscape now wearing off in proportion to the ambient light. Thankfully, a lone bike made its way towards us and stopped to help us. The local spoke a smattering of English offering us significant hope and having explained our predicament followed him up steep slopes to reach Kintamani, whence the route back to Singaraja was easy.
We were freezing in the cold sunset, having ridden up from the humid and sunny Lovina, on the northern coast of Bali and a far cry from the touristy and crowded beaches of the south. Komang, our local guide and friend, had generously lent us his motorcycle and assured us that it was a short and pleasant ride up. So off we trudged after a morning of dolphin watching in the warm sea, fighting the siesta our lovely lunch demanded. We were basically in our beach gear and I had a light cotton jacket in my camera backpack to spare. We were completely unprepared for the cold that hit us once we started climbing.
We would stop periodically and warm ourselves on the bike's silencer, determined not to turn back. On our way to the Batur complex, I walked into the two stores selling woollens but had to return empty-handed. We weren't carrying much cash, they wouldn't accept credit cards, were quoting insane prices (thanks to our look of obvious desperation), and wouldn't believe that I didn't have enough cash to get it at their price. We continued back to Lovina. The temperature dipped further. We saw a small tea shop that looked warm and inviting. We thawed in the tiny place while the lady running the place got us some hot lemon water. That was the most comforting drink I have ever had! We eventually made it back to Lovina, warm food, and a comfortable bed, thanks to the hot silencer.
Watching dolphins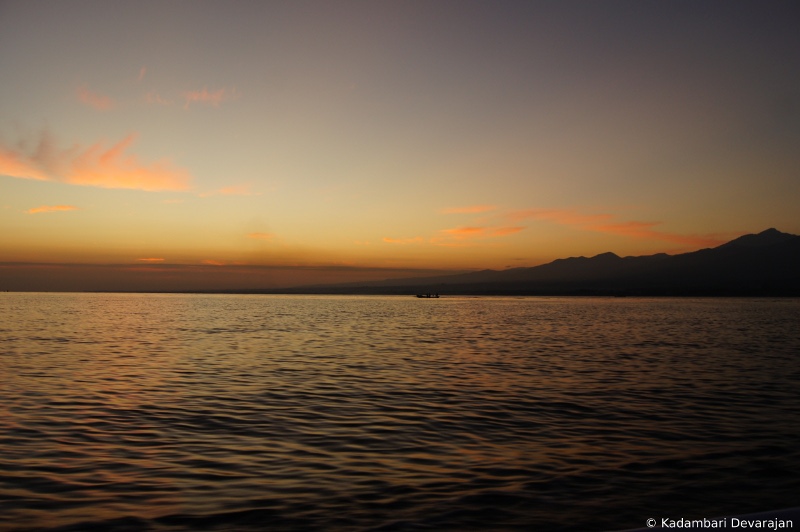 We set out before dawn on a tiny motorized catamaran. It was still dark and one could hear the buzz and hum of activity over the splashing waves of the sea. The fishermen were out and starting their day, well before sunrise. We were joining a friend of Komang's on his fishing boat for some dawn dolphin-watching.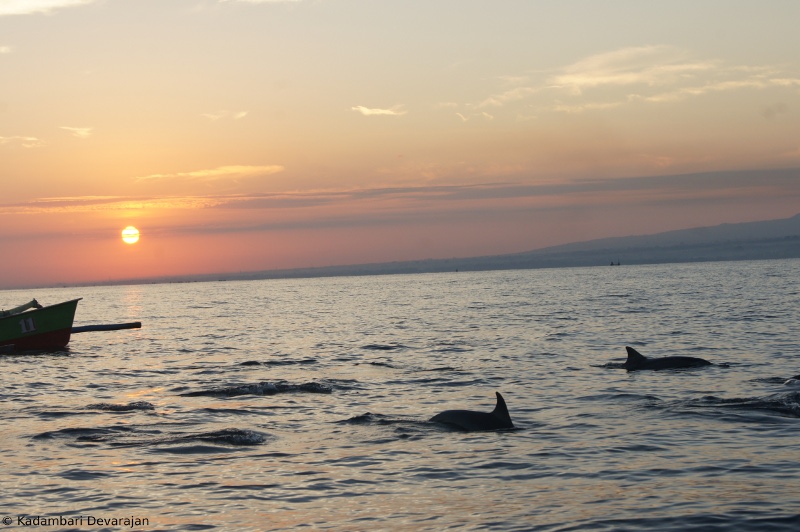 There are five species of marine Dolphins along the coast of Bali, namely the Bottlenosed Dolphin (Tursius truncatus), the Common Dolphin (Delphinus delphis), the Spinner Dolphin (Stenella longirostris), the Spotted Dolphin (Stenella attenuata), and the Dusky Dolphin (Legenorhyncus obscurus). The Bottlenosed Dolphin is, as expected, the most commonly found of the lot and we saw loads of them, while the Dusky Dolphin is rarely reported and is more frequently sighted in the waters around New Zealand. We might have sighted a Spotted Dolphin but I'm as yet unsure and will be able to confirm only after taking a thorough look at the tons of photographs taken during the pelagic trip.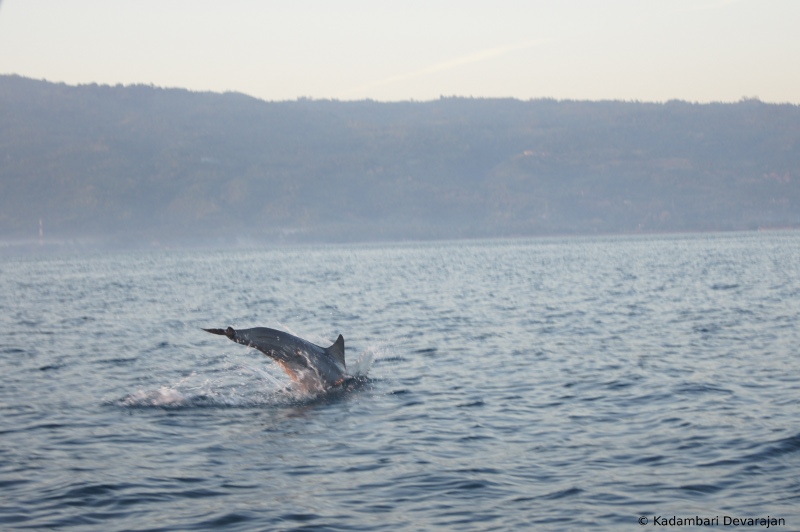 The fishermen of Lovina in Bali are definitely not experts in identification and are of no help with the different species found in these waters. These fishermen organize short dolphin watching trips for tourists to supplement their income. Unsurprisingly, the fishing town of Lovina in the north coast of Bali has adopted the dolphin as its mascot. We walked in the volcanic black sands of the beach at Lovina amused by the numerous peddlers of dolphins carved in wood near the landmark dolphin statue along the backdrop of the ocean ...
Fall at the waterfall
Water seemed to be the element of choice for Bali. Sea, lakes, ponds, waterfalls, ... there was water in all forms possible (except frozen). We even enjoyed a nice dip in the perfect but crowded hot springs of Air Banjar near Lovina. This was paradise for a bruised body, especially when combined with a massage. The short and easy treks to the different waterfalls were pleasant and good fun. We checked a few out on our way to Lovina and as pitstops enroute other destinations. These include the Munduk falls near Bedugul on our way to the beautiful Bali Botanical Gardens, as well as the Air Terjun Singsing and Gitgit falls near Singaraja. We sampled a few strawberries near the Munduk falls, which the region is famous for. The Gitgit falls are not very impressive in height, at a mere 40m. However, this would be etched in my memory for a long time to come for reasons unrelated to scenic beauty. On the trek to the falls is a flat, rocky outcrop facing a vertical cliff with a small stream separating them. The deep pools of the falls trickle down into an ankle-deep stream near here.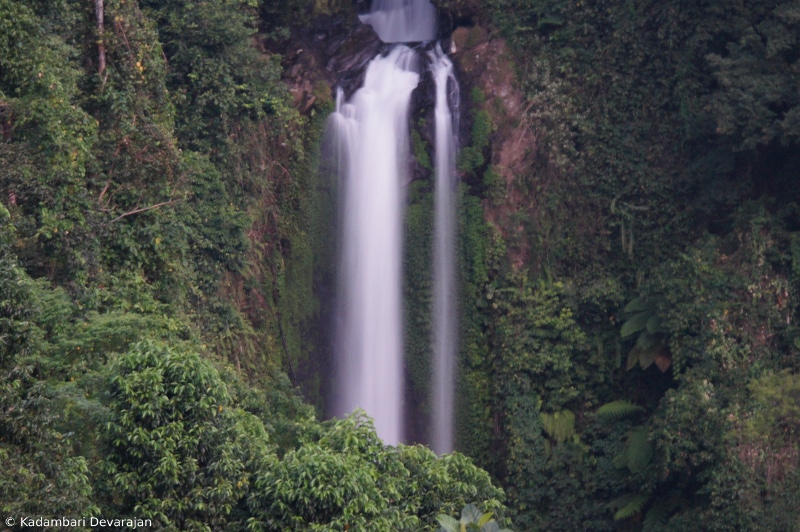 We saw a bunch of entrepreneurial kids selling beads and knick-knacks playing in the absence of very many tourists. They had a strong rope tied to a branch of a sturdy tree on the rocky ledge and swung Tarzan-style between the ledge and cliff, landing on rocks both ways. My husband and our local guide both tried their hands at this and seemed to be having so much fun, that I decided to give it a go. Someone gave me a push just as I was steadying myself on the rope and off I went, prematurely, scraping my knees the entire distance to the cliff, being unable to hoist myself high enough. I had to jump off at the cliff, unable to hang on any longer, and walked a sorry walk back to the ledge. My stricken and worried husband tended to me immediately but in his shock had recorded the whole thing on our video camera. My jeans were torn but had I not been wearing jeans, the damages might have been much worse than a slightly bloody knee surrounded by swollen multi-hued clots. This was where the hot springs of Air Banjar and a Balinese massage in Lovina helped, especially since I was just recovering from a serious ankle sprain as well.
Art, dance, music, and culture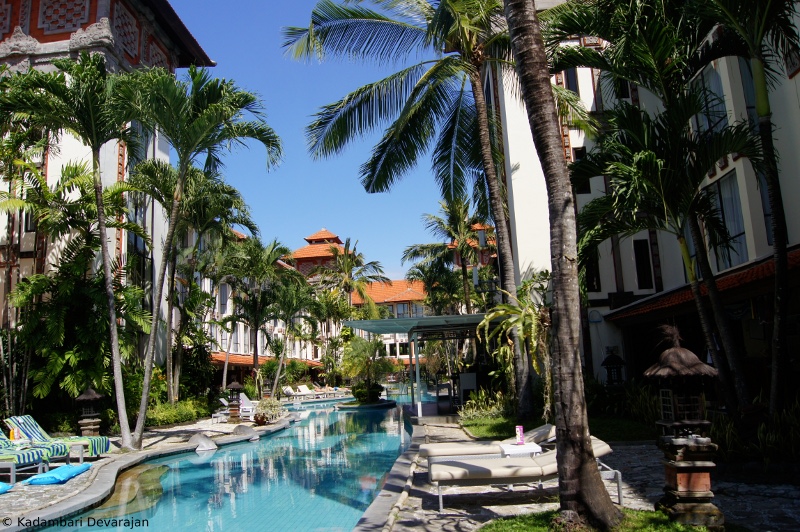 It was our first day in Bali. We wanted to just relax together at the beach, get a traditional Balinese massage, eat great food, and unwind after a hectic conference in Singapore. Paradise. Our hotel in Sanur was to become one of our all-time favorite hotels. I was sipping some herbal jamu tea before the massage and traditional lulur scrub, and casually questioned the masseuses about places to visit.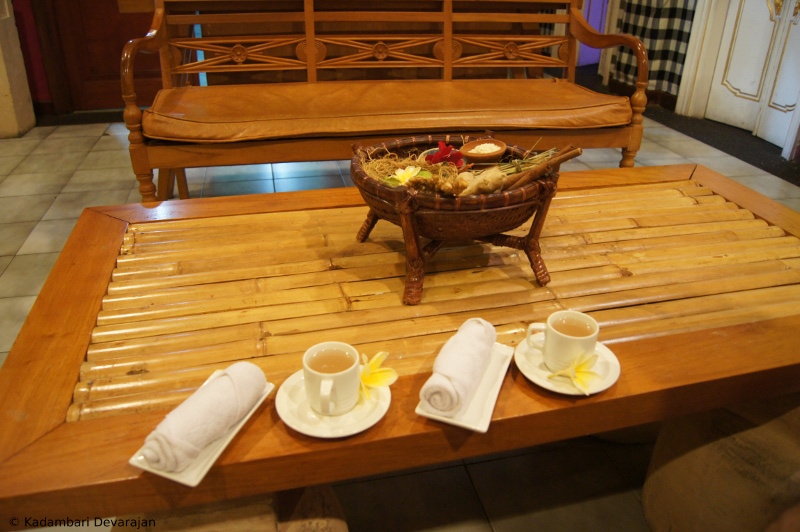 One of them suggested going for an exhibition/arts village nearby since it was the last day of the exhibit. A pre-dinner visit landed me a veritable loot of artwork. The paintings and woodcarvings were spectacular. I bought as many as I could, cursing AirAsia's luggage restrictions and almost in tears about having to remove the paintings from their intricately carved and beautiful wooden frames. The sights, sounds, and smells were quintessentially Indian. The haggling more so.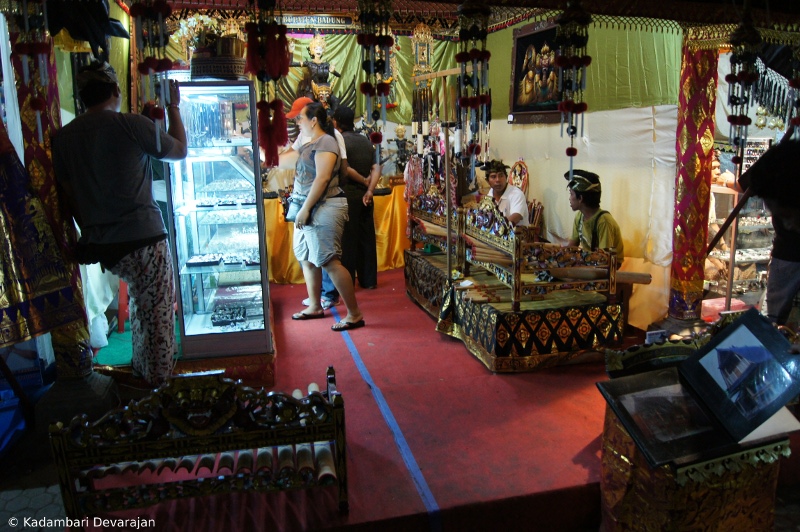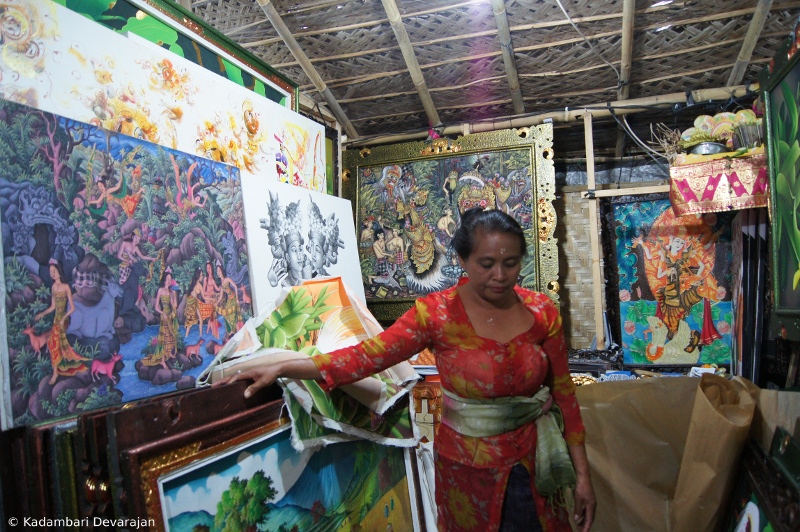 I was completely at home in the various markets we managed to visit. A memorable visit was to the Bedugul Traditional Market near the Pura Ulun Danu Bratan (or Lake Bratan temple) not far from Ubud. The stalls specialized in the wood carvings and sculpture, and we got quite a few to decorate our home. Bedugul is spice central and the aromas of coffee, cinnamon, and all-things-nice waft through every store. I walked into one tiny stall and picked up a beautiful piece. "Ah, Rama-Sita. You have in India, yeah? Very good!", said the tiny owner walking upto me with a twinkle in his eye. I admired it and enquired about the price. Smile still intact, he gave me an expensive quote. I shook my head. "Too much. Bring down!", I said resorting to broken English that he understood. His reply, "I no give you Europe price. I give you India price. You Hindu?" I burst out into laughter. His smile broadened. I sidestepped his question and continued haggling before getting it at what I thought was a reasonable price.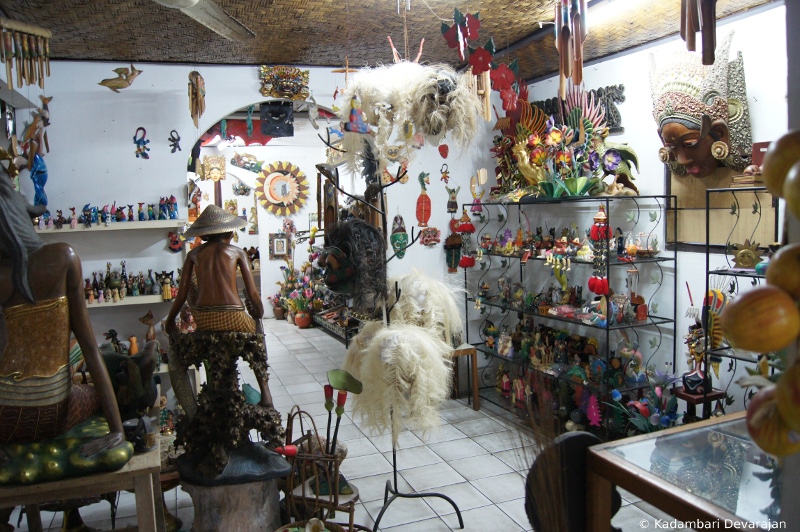 As you walk around Ubud, the culture capital of Bali, you would notice small prayer offerings (called sesajen) of incense, flowers, and food made everyday at almost every shop. It would typically be made by a woman who would carry this in a small basket woven with reeds, along with a lit lamp. The traditional houses also had characteristic slots in the stone walls to place a lit lamp and some flowers. The culture, architecture, and attire, transported me closer home to coastal Kerala.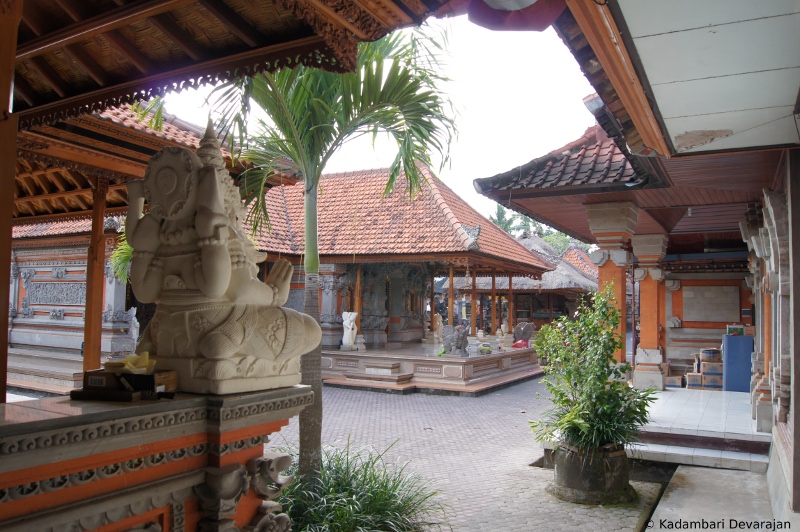 In Ubud, the narrow alleys are filled with art galleries, restaurants, and souvenir stores, by both locals and others. The T-shaped road formation is downtown Ubud, ending with the Monkey Forest on one end, and lined from end to end with guest houses, shops, restaurants, and performance halls. We had some amazing local food as usual, even though we had to go that extra mile for good vegetarian options - from Gado-gado (a spicy salad with peanut sauce), nasi goreng (an Indonesian fried rice), cap-cay (stir-fried vegetables), and martabak (a fried roti stuffed with vegetables) to lak-lak (a sweet coconut and palm-sugar stuff dumpling, not unlike kozhukattai), pisang goreng/godoh (fried bananas) and bubuh injin (a glutinous black rice pudding with palm-sugar, served with coconut cream), we tried it all. Lovina had fantastic vegan restaurants, including a Thai place we kept returning to for their Banoffee Pie and a hippie vegetarian ashram that served excellent mains from around the world. A day typically started with banana, pineapple, coconut, or chocolate pancakes and kopi bali (Balinese coffee), with lak-lak or a continental breakfast for a change.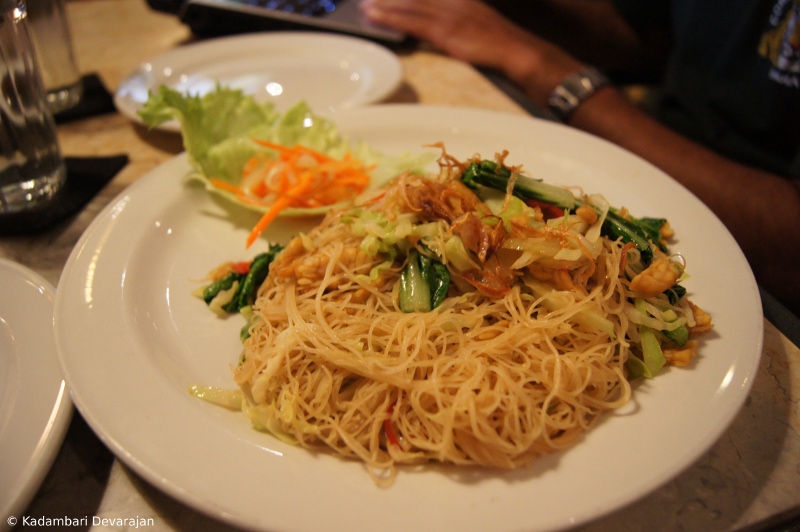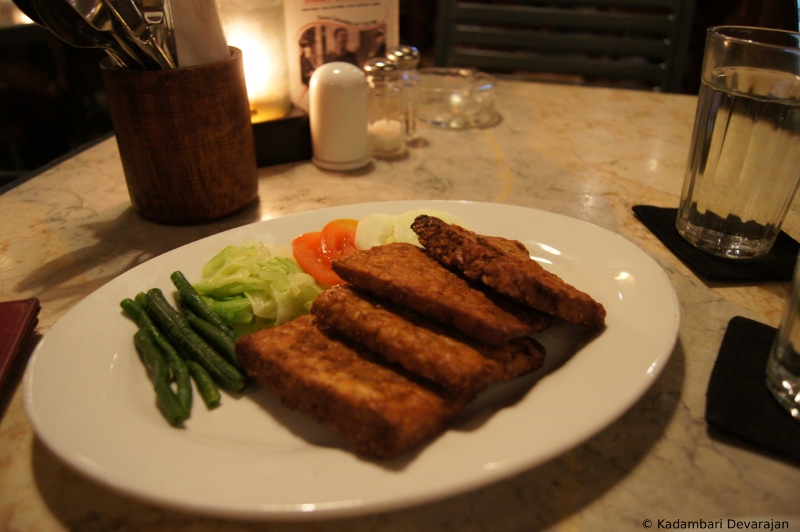 We managed to attend two performances during our short stay in Ubud. The Gamelan orchestra is not to be missed when in Bali and is an instrument somewhat similar to the Xylophone and the Indian Jalatarang, albeit much bigger. I thoroughly enjoyed the Legong and Barong performances by Balinese dancers choreographed to a story from mythology, typically adapted from the Ramayana. A classical dancer myself, I found them similar in style to Bharathnatyam dance dramas and the costumes (especially for the males) were similar in concept and execution to those in Kathakali. As with other aspects of Balinese culture, the notion of balance seemed to form a crucial part of Balinese dance. We also had an opportunity to watch the touristy Kecak performance from a distance at the Uluwatu Temple.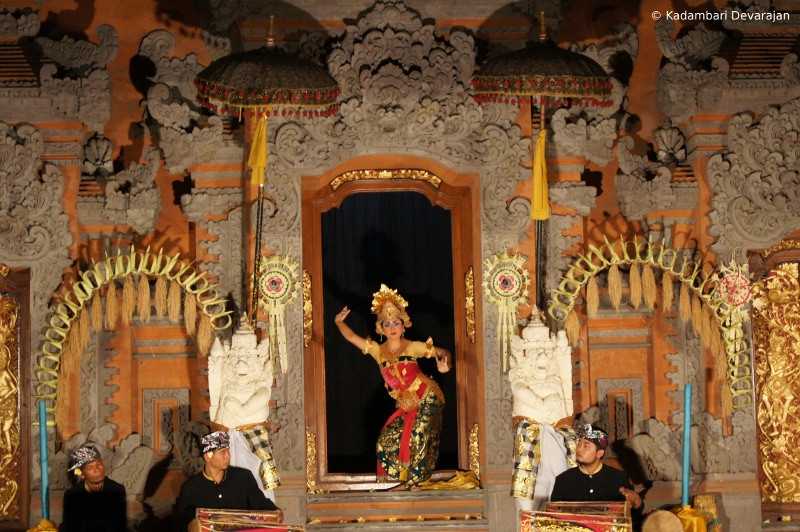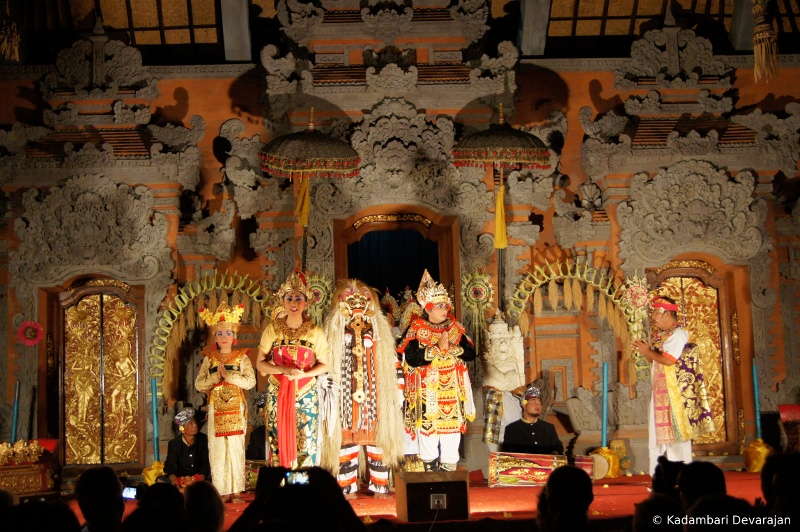 Art and woodwork in Bali are exquisite. As a consequence, even the furniture transcends from a functional level to something intricately artistic. There are galleries and museums galore dotting the island. The Neka Art Museum in Campuhan and the Agung Rai Museum of Art were definitely worth a visit with live artists whose work one can watch through the week. Young boys, many less than ten years old, were being trained in different styles of Balinese art. The gallery put up art works, by local artists typically, throughout out the year, in addition to those by their resident artists.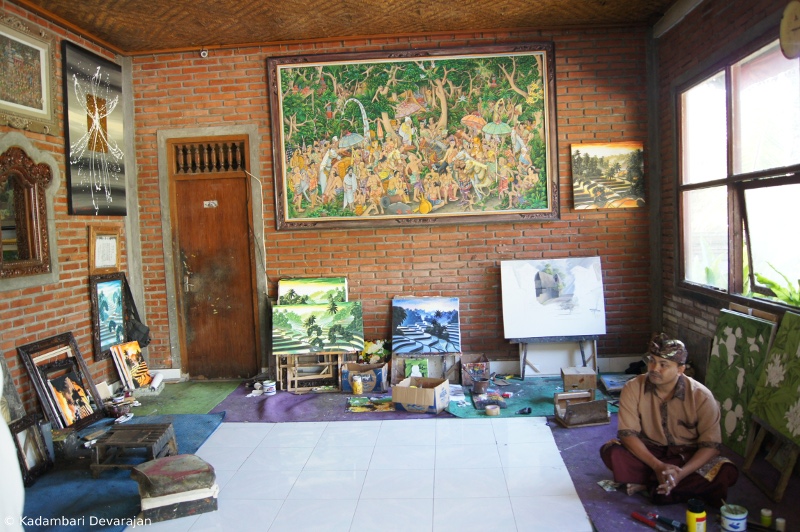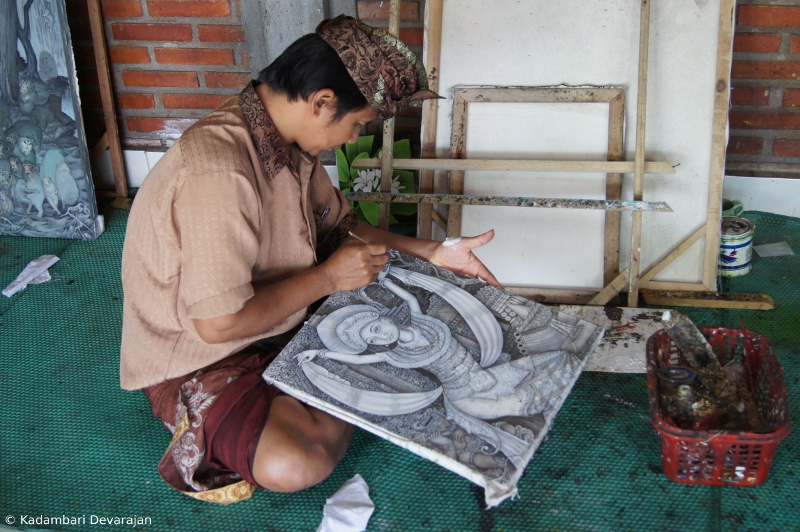 Ubud, Sanur, and Denpasar were peppered with obscure little galleries catering to tourists around the year. Bali is also famous for its metal work, especially silver and gold jewellery. The artist villages of Celuk and Mas are renowned for Balinese metal-craft. I picked up some exquisite silver jewellery at amazing prices here. The Bali Museum in Denpasar is a quaint museum housed in a lovely complex. We thoroughly enjoyed the historical and cultural prelude, especially the exhibits on the dance costumes, their significance, etc. Batik cloth is a big-sell in Bali and I recommend the pretty wraparounds that are perfect for the beach and parties back home.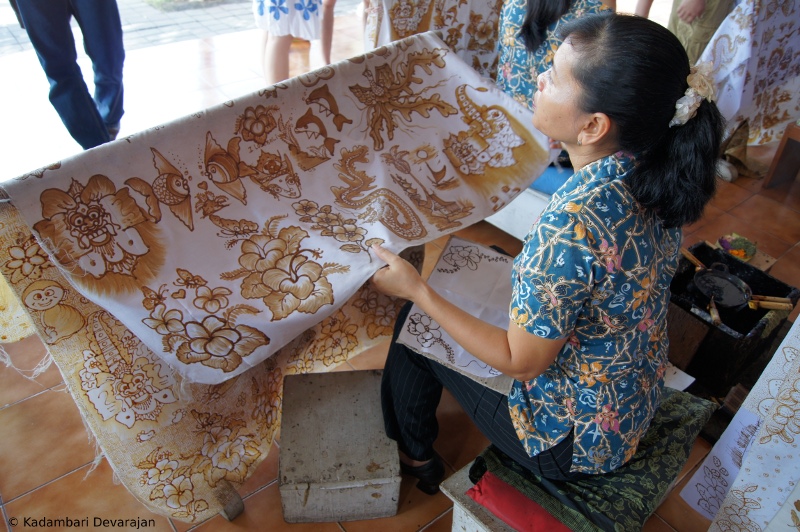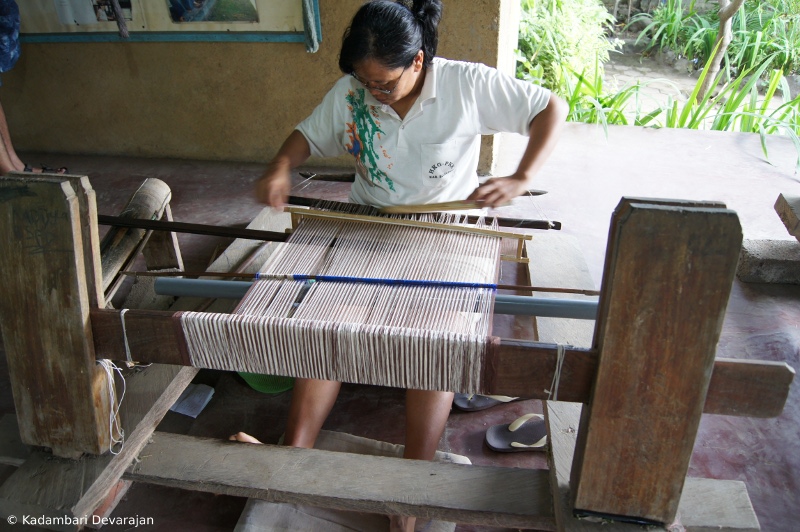 The temples of Bali were similar in notion to those of India. However, differences exist aplenty. We visited a few temples such as the Uluwatu temple overlooking the Jimbaran bay, the Pura Ulun Danu in Bedugul, the Pura Taman Ayun in Mengwi, the Pura Bukit Sari inside the Monkey Forest, etc. They were all built of stone with numerous beautiful carvings, but did not have any idols.
When enquired, we were told that the idol of the diety is brought out only once a year which is a cause for much festivities and celebration. This was apparently a historical relic of protection from plunder and invasions when the temples used to be destroyed and their treasures stolen. Noticeably, most temples in Bali were situated either close to water or on mountain slopes.
Tulamben - a diving Mecca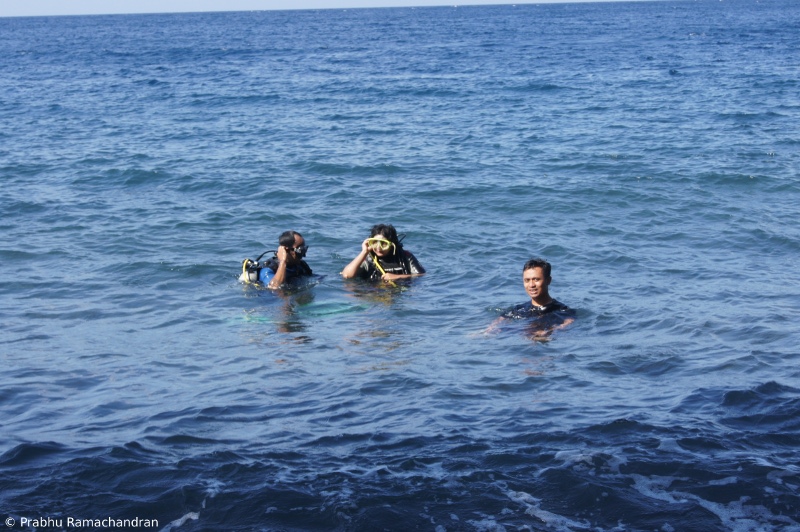 It was a magical, underwater wonderland. Tropical reef fish of electric blue, psychedelic purple, and blinding yellow swum past, almost touching me. Every cell was ablaze with sensations and I was trying to absorb it all. The sea was crystal clear and a riot of colors. It was my first time scuba diving and I took to it right away. It was at a place called Tulamben, famous for the wreck of the USAT Liberty which had sunk near Lombok in 1942 after being torpedoed by a Japanese submarine and towed here. It had been driven off the beach by the eruption of Gunung Agung (Bali's biggest active volcano) some decades later. With the guidance of the instructor, we descended and I was soon touching the wreck. We surfaced soon after, but returned for another dive an hour or so later. It was a quiet journey back to Lovina, except for a visit to a Batik-printing and weaving unit on the way. I was still reeling under saltwater at dinnertime and my stomach was definitely complaining ...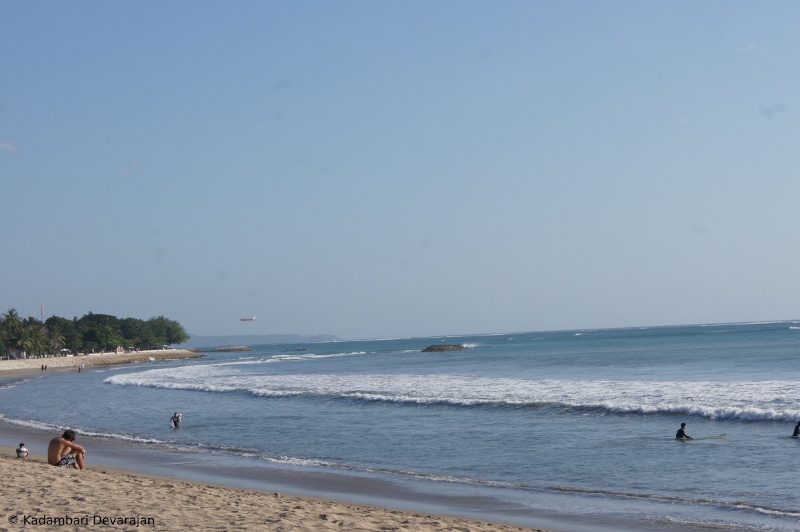 Birdwatching in Bali
There was so much to do, see, and experience in Bali, that for once we did not indulge in much birdwatching. However, we did check out a few of the places particularly for the avifauna. We stopped at the Bali Botanical Gardens on the way from Sanur to Lovina for about an hour. This was green pigeon haven and we saw an assortment of green pigeons (see checklist at end), in addition to shrikes, ioras, doves, and orioles. I was really keen on visiting the Bali Barat (or West Bali) National Park on the western shores of Bali. It was one of the last refuges of the critically endangered Bali Starling (Leucopsar rothschildi), a spectacularly white starling with striking blue eyes - a bird endemic to Bali and once down to 6 individuals in the wild. After a massive rehabilitation program, the population in the wild was estimated to be about 100 individuals at the time of my visit (most of them in the island of Nusa Penida). The day after our bike ride upto Mt. Batur, we decided to make a quick visit to Bali Barat. The half-day we spent there resulted in lifers even just around the Visitor Center and we rued not having enough time to spend here. We vowed another trip to Bali just for the wildlife, and exploring the fauna on either side of Wallace's line. Our plans of island hopping to Lombok and onto Flores for a glimpse of the Komodo Dragons was not to be either. Next trip. Definitely.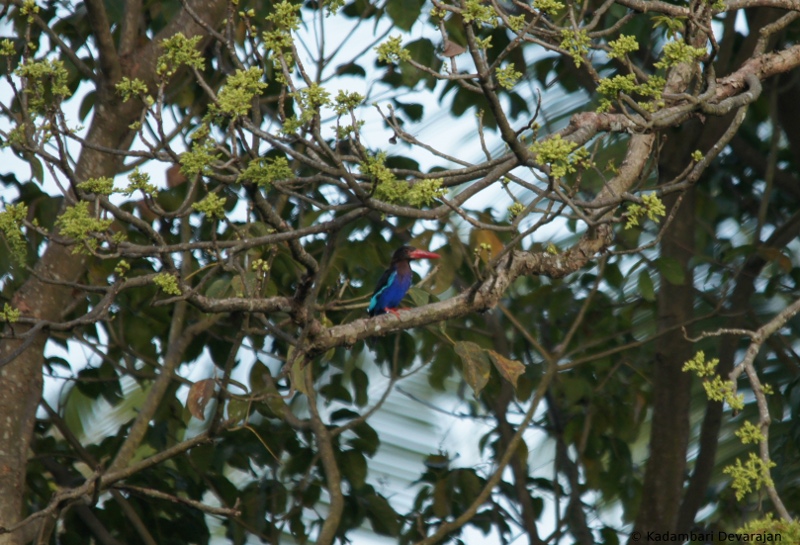 The park's Visitor Center was a beautiful complex right on the western shore. We went to the beach and stood silently watching the Javan shoreline clearly visible across the sea strip that seemed to be just a large swimming pool. The complex was alive with small coastal and forest birds. I was thrilled to see the Golden-bellied Gerygone and an assortment of munias, swallows, and swifts. Another classic mangrove species along with the Gerygone was also sighted here - the Collared Kingfisher. We spent a good half hour watching bee-eaters and head back to Lovina for our last day there with great difficulty - not wanting to leave Bali Barat so quickly, and without seeing the Bali Starling in the wild (we had seen it in captivity at the Jurong Bird Park in Singapore). My favorite souvenir from Bali is a huge, exquisite painting of Bali Mynas with some colorful Lorikeets in a rainforest, the pride of my living room. We wrapped up birdwatching in Bali with a trip to the rice fields of Ubud through the Monkey Forest, in search of the Javan Kingfisher. It is a colorful and dainty kingfisher endemic to Indonesia. We were disappointed with the Monkey Forest, having seen no birds there. We trudged out to the rice fields and were a lot more successful birding there close to sunset. Our first bird outside was a White-breasted Waterhen. Just as we gave up hopes of seeing the Javan Kingfisher, I turned to follow my husband who was already walking back into the Monkey Forest, when I saw one land on the tree next to me. I had time for one quick (sorry-looking) photograph after making sure my husband saw it too, before it took off. Our last bird of the trip turned out to be the Javan Kingfisher.
Mammal List
Macaque, Crab-eating

Dolphin, Bottled-nosed

Rabbit, European (Feral, unconfirmed)

Pig, Wild

Banteng, Wild

Squirrel, Bali

Deer, Javan Rusa (aka Sunda Sambar)
Total - 6
Bird List
Barbet, Coppersmith

Bee-eater, Blue-tailed

Bee-eater, Chestnut-headed

Bulbul, Sooty-headed

Bulbul, Yellow-vented

Coucal, Greater

Crow, Large-billed

Dollarbird

Dove, Black-naped Fruit

Dove, Emerald

Dove, Island Collared

Dove, Peaceful

Dove, Ruddy-cuckoo

Dove, Spotted

Drongo, Ashy

Drongo, Black

Egret, Cattle

Flycatcher, Little Pied

Gerygone, Golden-bellied

Heron, Black-crowned Night

Heron, Javan Pond

Iora, Common

Kingfisher, Collared

Kingfisher, Common

Kingfisher, Javan

Minivet, Scarlet

Munia, Javan

Munia, Scaly-breasted

Munia, White-headed

Mynah, Javan

Oriole, Black-naped

Pigeon, Grey-cheeked Green

Pigeon, Orange-breasted Green

Pigeon, Pied Imperial

Pigeon, Pink-necked Green

Pigeon, Rock

Prinia, Bar-winged

Robin, Oriental Magpie

Robin, Sunda Blue

Roller, Indian

Shrike, Long-tailed

Sparrow, Tree

Starling, Asian Glossy

Sunbird, Olive-backed

Swallow, Pacific

Swallow, Red-rumped

Swift, House

Swiftlet, Glossy

Warbler, Mountain-leaf

Waterhen, White-breasted

White-eye, Mountain

White-eye, Oriental
Total - ~52