I'd be hardpressed to find the perfect spot for me in the universe, but I'm pretty sure there will be a fig tree involved. For where there is a fig tree, there is life aplenty. A raucous party with birds of all shapes and sizes will definitely be happening, for instance. For someone who adores fig trees, I'm not a big fan of dried figs or anjeer as they are known in most of India. But fresh figs? Fresh figs, I can die for! The deep purple hues of a fig in the peak of ripeness, with ginger streaks of green calls to me like a beacon. And the vibrant red speckled with seeds that you can see when you bite into one? Um, divine!
So you can imagine my joy when I found plump, ripe figs at the campus' weekly organic farmers' market last sunday. I knew exactly what I wanted to do with them - roast them in the oven, with a dash of cinnamon, until they are all oozy and caramelized from their natural sugars. Oh, I'm still salivating at the thought!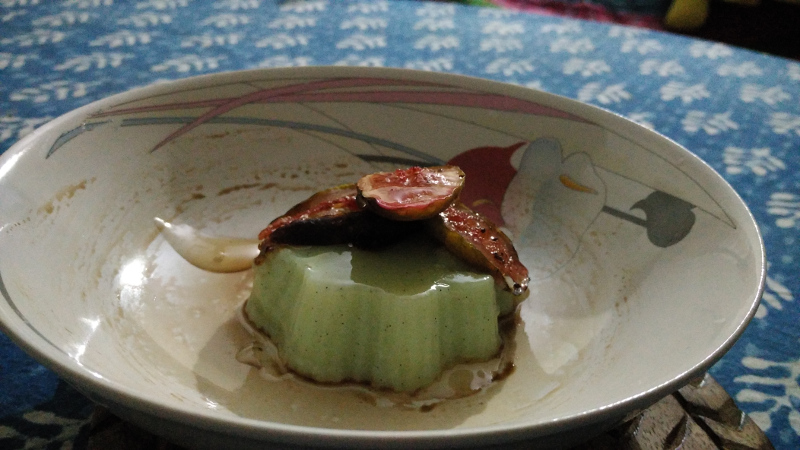 On a whim, after vacillating between using the fresh strawberries (which are currently in season) that I had bought and the fresh figs for tarts, I decided I'll do a nice strawberry tart later and something simple with the figs as the hero right away. And voila! I managed to concoct a spectacular and nifty little dessert that could spruce up any menu and look deadly enough to sit on a fancy restaurant's table! Believe it or not, it was whipped up in half hour tops!
Mint and Vanilla Bean Panna Cotta with Oven Roasted Spicy Figs and a Honey Balsamic Drizzle
Vegetarian | Eggless | Can Be Made Vegan | Gluten Free
Ingredients
(Ingredients I used in parantheses)
For the panna cotta:
1/2 litre full fat milk | (Milk powder sachets collected from airlines and hotel rooms!)

1/2 cup sugar | (Sugar sachets collected from airlines and hotel rooms!)

1 vanilla pod | (Mojo Plantation's Don't Panic, It's Organic Vanilla)

1/2 tsp mint extract | (McCormick's Pure Mint Extract)

3 drops of green food coloring | (Sprig's Natural Extract - Spinach Green)

4 gms agar-agar | (5 Diamond China Grass)

1 tsp cornflour (optional)
For the roasted figs:
3 fresh figs

1/2 tsp cinnamon powder | (Conscious Food's Ground Cinnamon)

1/2 tsp butter | (Homemade butter from Govind's Organic Cow's Milk)
For the honey balsamic drizzle (optional):
1 tsp honey | (Amrutyog Tribal Honey)

1/2 tsp balsamic vinegar | (Gino Toschi's Aceto Balsamico de Modena)
(Don't judge me about the sachet collection - I don't have milk with my beverages and don't like to waste food! :D)
Method
Panna Cotta: Heat all the ingredients together on a low flame until the agar-agar dissolves completely. The mixture should be creamy and not lumpy. Wait for it to cool down for about 5 minutes. Pour into moulds and set in the freezer for 20 minutes or until set. I use silicone moulds because they make life super easy!

Roasted figs: Slice the figs and line them on a baking sheet/tray. Brush on some melted butter and sprinkle some cinnamon over each slice. Bake in the oven at 160C for 15-20 minutes.

Honey balsamic drizzle: Heat the honey and aceto balsamico in the smallest saucepan you can muster until it thickens and becomes viscous.

Brush some of the honey balsamic on the serving dish. De-mould the panna cotta on this. Place the roasted figs on the panna cotta and drizzle some of the honey balsamic on top. If you don't have any balsamic vinegar, just using honey works great, too. Honey adds another dimension of sweetness but can be done without.
I promise you, this dessert tastes better than it looks - and it looks pretty darn spectacular for something so simple! Look closely and you'll be able to spot the specks of vanilla. Since it's an invention of mine, do let me know if you try it!
Ending tip 1 - To make it vegan, simply substitute full fat milk with almond milk, coconut milk, rice milk or soy milk. Also, subsitute the butter with olive oil when roasting the figs.
Ending tip 2 - To make it richer, use 1/4 litre milk and 1/4 litre cream. And if vegan, use coconut milk and coconut cream instead. Technically, panna cotta means "cooked cream" in Italian, so I would definitely avoid skimmed milk. Low fat milk equals milk jelly and not panna cotta, methinks!